Mexico City by Maria O'connor
Puerto Vallarta, Mexico – I have been a full-time resident of Puerto Vallarta for nearly twenty-five years, almost half my life! Although I work full time, I have tried to take advantage of vacation time and long weekends to try and explore other parts of this beautiful country that I call home. Puerto Vallarta is ideally located as a jumping-off point to discover other parts of Mexico. We have all major luxury bus lines at our disposal and finally, some new options for domestic flights that will not break the bank.
Mexico City is magical – one of the largest cities in the world, it is a meeting place of old and new cultures, a hub of activity, a culinary mecca and a stunning canvas upon which Mexico's vibrant history is painted. It is extremely accessible, very safe and you will never run out of things to do. There are activities for every budget and enjoyment for every age.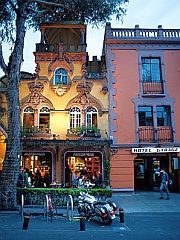 I try and visit at least twice or three times a year. I have stayed in all parts of the city and my favorite areas or colonias are the Condesa and the Centro Historico. I have stayed in high-end hotels and budget traveler-style hotels and enjoyed both. I prefer something historic and interesting to chain hotels, but for those that prefer the comfort of a known quantity, every major chain is represented. Hotels that I like are the Downtown and the Hotel Isabel in the Centro Historico, and the Condesa D.F. and the Red Tree House in the Condesa. Even though it is a chain, the Four Seasons is never a bad idea and they often have special rates. Also, their bar for happy hour is fabulous.
I have also had great luck monitoring the different airlines for special fares and promotions. I have flown on Vivaaerobus a few times, once paying only $350 pesos round trip! I am going this October with Volaris and my ticket cost me $499 pesos each way. There are restrictions and often you will need to purchase the tickets way in advance, (I bought the October ticket last December), but it can make a big difference in the price.
Although you could spend years in the city and not see all that there is to see, I have made up a sample 4-day itinerary for first-time visitors, which highlights some of the must-see attractions. I have organized them geographically so that you are not all over the place fighting traffic. You can do the days in any order and obviously I have included particular favorites that could be replaced by others.
Day 1 – Downtown
Palacio Nacional, Bellas Artes, Museo de la Ciudad de Mexico, Palace of the Inquisition (really cool torture museum!), House of Agustin Iturbide, La Real Aduana (SEP), Musel del Estanquillo (Carlos Monsivais collections), Torre Latinoamerica, Templo Mayor
Take a break at the old Sanborns or at Salon Corona for beer and tacos. For a nicer breakfast or lunch, try Azul Historico in the Downtown.
Day 2 – Pyramids
Pyramids are a lot of work so you probably want to limit yourself to just this. If you are so inclined, you can stop at the Guadalupe Temple on the way there. A cool way to see them might be to do the hot-air balloon sunrise champagne tour – you fly over the pyramids and then can explore them before the general public arrives for the tours.
Day 3 – Chapultepec
Anthropology Museum, Chapultepec Castle, Chapultepec Park, Natural History Museum, Jumex Museum and the Outside of the Soumaya Museum
You can have a nice lunch in the park or in Polanco. I did not care for the Soumaya Museum but the outside of it is really cool and is worth walking by.
Day 4 – South Part of the City
Dolores Olmedo Museum, Museo Anahuacalli (Diego River's house when he died), Museo Frida Kahlo, Museo del Carmen, Casa Trotsky
The areas of San Angel and Coyoacan are pretty and great to walk around – if you go to San Angel on a Saturday there is a big art market in the park. Options for lunch or dinner Cluny and Turtux in San Angel.
I know I have left out a plethora of wonderful places and things to see but that is part of the wonder of this city, you will never run out of new adventures! Provecho!
Maria O'Connor is the In-House Legal Council for Tropicasa Realty. As an attorney specializing in real estate transactions, María has been at the forefront of the Puerto Vallarta legal community for many years, providing an important service for foreign and Mexican real estate clients alike. Contact her at maria(at)tropicasa.com